New Releases - Check out the latest patterns available from Crochet by Kathy!
Reversible Crochet Patterns - My reversible crochet technique alternates a main color with one or more contrasting colors, giving the unique effect of one of the colors being more prominent on each side. Try out this technique free by downloading my quick and easy Reversible Valentine Coaster pattern.
Thread Crochet Patterns - Several techniques are included such as filet crochet and diagonal filet crochet, in addition to lacy crochet as used in snowflakes.
Crochet Patterns for Children - Check out the variety of baby afghans and thread crochet dresses available!
Afghans Patterns to Crochet - From baby afghans to lapghans to full-size afghans, there's something for every room in the house!
Crochet for Your Décor - Decorate your home with table runners, placemats, valances, pillows and more!
Crochet Apparel Patterns - Brighten up your outfits with the variety of hats, vests, shawls, cardigans and more!
Seasonal Crochet Patterns - It's never too early to get ready for the holidays with table runners, afghans, holiday decorations and more!
Accessories & More... - Dress up your wardrobe with fun items such as purses, scarves, and shawls, or use up your scrap threads to make quick gifts items such as personalized bookmarks!
Meet the Designer - Learn how I got started as a crochet designer. You can also contact me to let me know what type of crochet patterns you're interested in!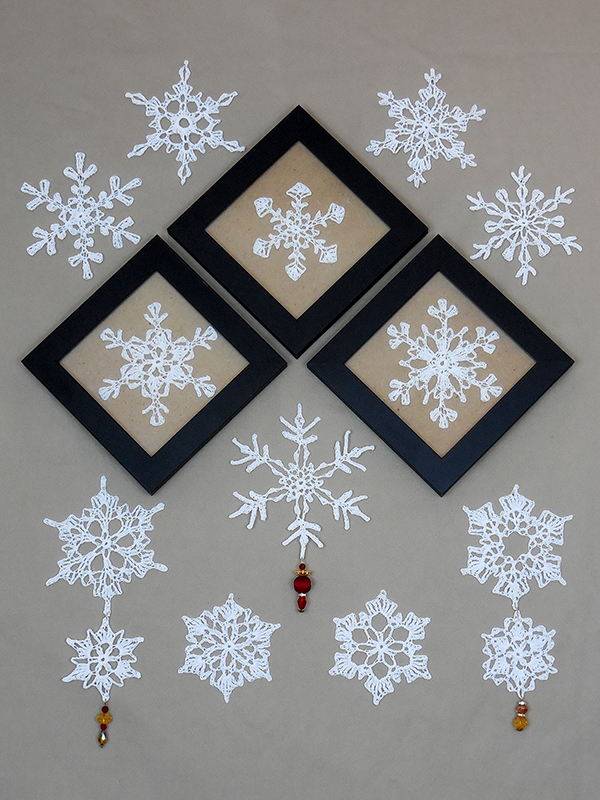 For a photo display of pattern examples:
Mouse over category descriptions at left!